In this quick blog we will go over one of our recent website design projects where we completed a website for a local mortgage broker in Calgary. Avenue Financial offers a range of services to both residential consumers and commercial financing for businesses both small and large.
We aimed to create a website that can help reflect this. With alternate skins for the residential and commercial sides of the business and a few other key differences to help them properly cater to their target demographics.
Modernize Your Brand Through Web Design
When Avenue Financial approached us their site was no longer up to par for a modern website. We helped them develop a plan that would help them stand out and continue to compete in their industry while being true to their 25 year old branding.
In an industry as competitive as Commercial and Residential Financing it's important to stay ahead of the game and create a platform that excels in user experience for both your marketing and sales funnel. In the screenshot above, you can see both the new and old website side by side.
We chose to create a website similar to the 'big banks' that are the true competition for brokers such as Vic Cotton and his team at Avenue. With a more corporate look, welcoming colour scheme, and a commercial font – they were well on their way to decrease their bounce rate while increasing the engagement of the site as a whole.
At Innovate Media Canada we take pride in being full a full service Calgary web developer that can help you increase traffic and sales by building your site from start to finish. We achieve this by utilizing both our UX and UI design team to help understand the user flow of your website before it has even gone live via usability tests.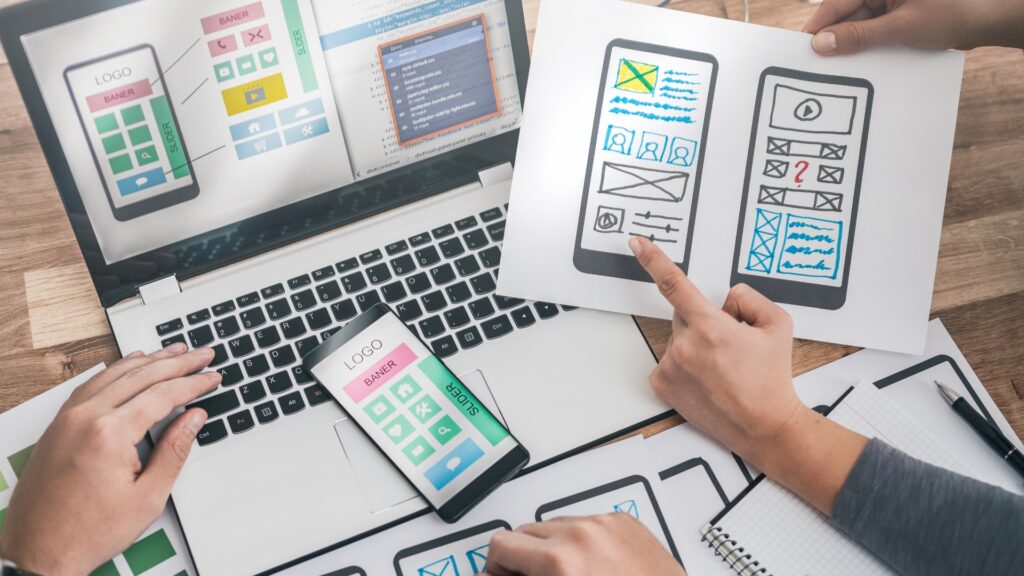 After working with the Avenue team to create the navigational flow, we move towards creating a high fidelity prototype that allow user testing. Unlike other digital marketing companies who just dive into the development with no true direction, we want to make sure our digital product will be true to your vision.
After all, design is the process.
Creating a Unique Responsive Design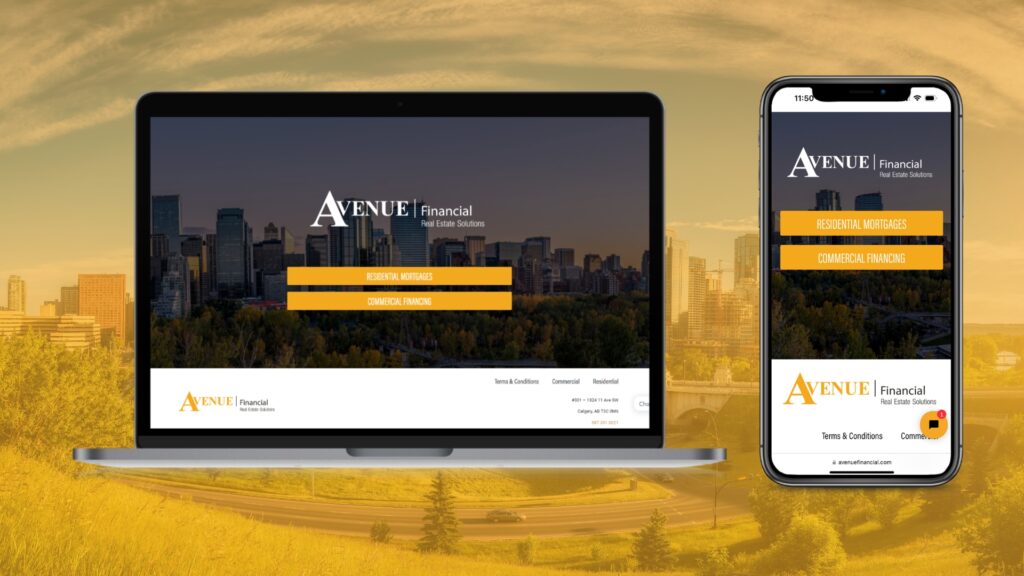 While the flow and navigation of the site is important, we all know that as humans we often judge a book by it's cover. That's why we took the responsive UX design for Avenue Financial to the next level. By Creating separate portals for each type of client it shortens the amount of clicks needed to sift through the massive amount of available content.
Not only does it clean up the UI design (nav bar, menus, etc.) it also allows you to curate the content so you aren't confusing the reader with information that is not of value to them. This comes down to the Headers, Photos, Videos, and applicable services. For anyone who knows anything about Search Engine Optimization will understand the benefits of having alt text and headers for the two different types of clientele.
By hiring a certified user experience designer (Such us Innovate Media Canada) you are guaranteed to receive a high quality product and top tier visual design services that will give your competition a run for their money.
Advanced Term User Experience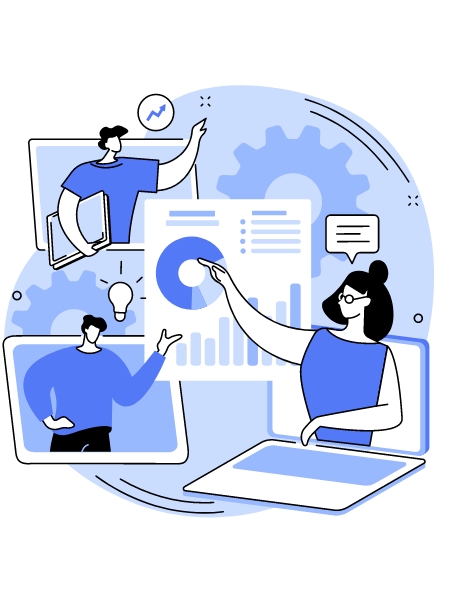 Let's go over what was covered so far:
We prototyped the website for increased usability through testing
We developed a modern design for your website
We created separate portals for residential and commercial clients
We set the website up for future SEO and optimized the headers and Alt text depending on the demographics
That's a lot of ground covered, with more left to go. Every industry and every business has unique traits and services that help it stand out and provide better value to it's customers. That's why we helped Avenue Financial handle their API's for various services and install them on the website in a fashion that's both accessible and organized.
We installed nine financial calculators on a Avenue Financials' website to help users navigate various mortgage and housing scenarios. These calculators are designed to be user-friendly and provide valuable assistance to the website's visitors. The tools cover a wide range of topics, from determining mortgage affordability to comparing rent versus buying options.
Affordability Calculator: This calculator helps users estimate how much they can afford to spend on a home based on their income, monthly debts, and down payment. It allows them to make more informed decisions when searching for properties within their budget.
Amortization Calculator: This tool generates a mortgage amortization schedule, providing a detailed breakdown of principal and interest payments over the loan term. Users can see how their monthly payments are allocated and plan for future financial commitments.
Bi-Weekly vs. Monthly Calculator: By comparing the impact of bi-weekly and monthly mortgage payments, users can evaluate which payment schedule best aligns with their financial goals and potentially reduce the total interest paid over the life of the loan.
Early Renewal Calculator: This calculator assists users in determining the potential savings or costs associated with renewing their mortgage before the term ends. It takes into account factors such as prepayment penalties and potential interest rate changes.
Mortgage Qualifier Calculator: By inputting their financial information, users can determine whether they meet the necessary criteria to qualify for a mortgage. This calculator helps users understand the factors that lenders consider when approving mortgage applications.
Mortgage Scenario Calculator: Users can analyze various mortgage scenarios by adjusting factors such as interest rates, loan terms, and down payments. This tool helps users identify the mortgage options that best suit their financial circumstances.
Payments Calculator: This calculator estimates the monthly mortgage payments based on loan amount, interest rate, and loan term. Users can easily compare different mortgage options and plan their budget accordingly.
Rent vs. Buy Calculator: By comparing the costs of renting and purchasing a property, users can make informed decisions about whether it's more financially advantageous for them to rent or buy. This calculator takes into account factors such as property appreciation, rental rates, and tax implications.
Commercial Loan Calculator: This calculator provides an estimation of monthly payments for commercial loans based on the loan amount, interest rate, and repayment term.
Creating A Funnel Via Web Design
As a Calgary marketing company we don't just build pretty websites. We help you turn our website into an active funnel that helps your clients start the sales process right away. This is why we also installed online applications and an instant messenger application to increase sales traction.
With the online application built into the site clients can get ahead for their approval by inputting their information into a secure web app that forwards the leads directly to the agents at Avenue.
Additionaly through the messenger application clients can engage with agents in live conversation for quick questions, setting up a introductory meeting, or get help with their application. It also collects client info such as name and email for the team's CRM to follow up.
Are you a small business looking to make a BIG impact in the digital world? At Innovate Media Canada, we are a full-service creative and digital marketing studio based in Calgary, Alberta, is your secret weapon!
Join the ranks of thriving businesses who've transformed their online presence with our cutting-edge solutions tailored for small businesses. From eye-catching web design to results-driven digital marketing strategies, we've got you covered!
Don't wait! Take advantage of our expertise and make your small business shine in the online world!