Example of Custom Realtor Site (hover to scroll on desktop)
Building a Custom Realtor Site
As many of my clients know, I have a long history in the Real Estate sector. I know first hand how difficult it is to stand out as a Realtor online. With over 400 brokerages in the municipality of Calgary and about 10,000 Realtors in the province of Alberta, it's safe to say you will need a lot more than a cookie cutter website from ReMAX or Royal LePage to make waves in this market.
In this overview we will take a look at one of our recent projects we took on with Go2Guy Real Estate and how we helped him create a unique brand that separates him from the average residential agents in the Calgary area. Read on to learn about what to include before you create a website for yourself or an agency.
What Should Realty Sites Include?
The main goal of creating your own real estate web page should be to enhance your clients experience while creating a profitable lead generator. We will cover over each of these separately, going into more detail with a few tips for each topic.
Have a strong brand
Make sure your site is easy to navigate
Connect your site to your real estate board with IDX Software
Ensure all roads "lead to Rome"
Building a Brand as a Realtor or Brokerage
When it comes to standing out from the crowd there is not much else more important than building a unique brand that is aesthetically pleasing to your viewers. There is so much competition on the internet and within the industry that you have to make sure you are capturing the viewer attention instantly, as studies show that most consumers will decide if they trust you/a company within just 1.5 seconds of landing on a web page.
That's incredibly fast, so much so that looking like another number in the ReMAX agent is basically a death sentence. In fact, if you take a look at Canada's Top Realtor's you will find that almost all of the top 100 brokers have their own website, even if they are with ReMAX, EXP, or another larger brokerage.
Now that you can see the importance of having a strong and respectful brand, here are a few tips you should keep in mind when building your company logo and choosing an aesthetic:
Find colors will pop from the crowd
Find fonts that portray your tone
Get feedback from colleagues and mentors on your brand
Use your branding everywhere! Cards, signs, brochures, social media, etc.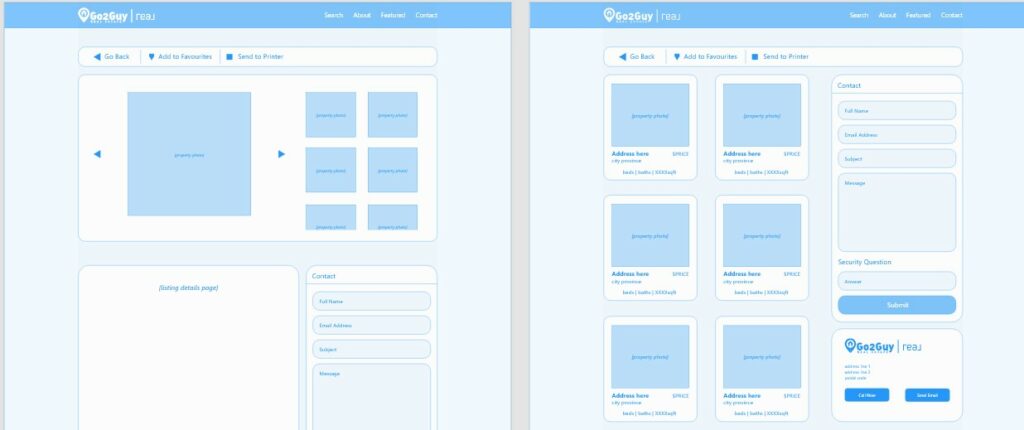 Blueprint example from Go2Guy Real Estate

When its time to build your business it can be easy to choose something that you like, just because you like it. This is where professionals come in. Much like ourselves, we help you build a logo by understanding your company values, what industry you are in, and what missions you strive to achieve. Remember, while the logo is the emblem of your house – it is also going to be giving off a lot of first impressions.
While this can seem like a no brainer, many realtors and businesses alike miss a huge opportunity to give their brand a bit more personality by choosing fonts that are overused Working with your graphic designer while building your logo you should ask them to help you by finding 3 or 4 different pairs of fonts so you can choose a set that help set the tone of your message.
Is it a casual tone? Serious? Informative? Spend some time looking and you will find that a font can help set the reading tone for your website, marketing content, and blogs.
Don't just say blue or red, pick an exact color code and refuse to deviate. The more people see you, your site, for sale signs, and business cards, the more they will begin to relate the color to your business. Pick a primary, a secondary, and an accent. Make sure you understand the colors and their meanings for maximum affect!
Forget about Templates - Create a Style!
Next up comes the the part where you combine everything together online under the newly designed brand. In today's age there is a massive selection of choices when it comes to web design – whether it be Wix, Squarespace, a Developer, or taking a swing at building your very own WordPress site. When it comes to real estate agents, we highly suggest that you shy away from these tactics as they will more than likely not help you succeed.
Realtor Web Design has many moving parts, such as Search Engine Optimization (on & off page optimization), connecting to an IDX software, customizing meta data, and having a presentable custom template that shows off your brand.
One more thing to keep in mind when designing your website, all other marketing content should follow the same rules and styling in order to further strengthen the brand and keep everything uniform across all platforms. This ensures that the client can always recognize you in the crowd.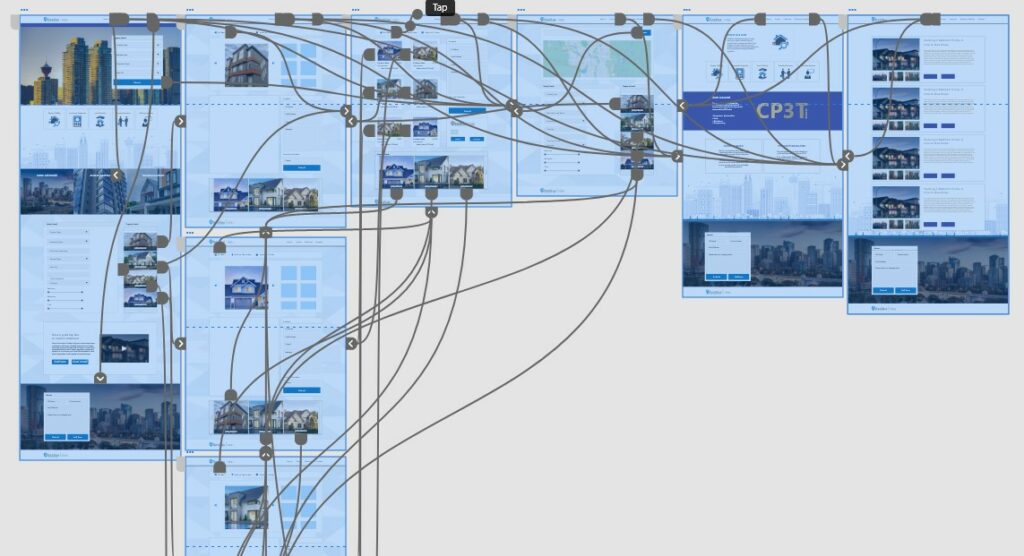 UX design and flow for Go2Guy Real Estate
Now that you've begun building a site, it is extremely important to keep a neatly organized and easy to understand hierarchy of pages. As you can see above, we actually design the flow and hierarchy prior to even building the website. This is called User Experience design, and it makes sure clients don't get lost or end up leaving before they find what they came for.
Using prototyping software for UX design, you can share the designs with your friends and colleagues before they go online – getting feedback to make sure your site will be easy to navigate and not another online labyrinth!
A few tips to keep your flow moving:
Have a full menu that sticks to the page and moves when the viewer scrolls (sticky header)
have a bottom menu in the footer with the key contacts, address, and applicable phone numbers
make sure to set parent pages that help people visualize the hierarchy when viewing the URL
Create floating CTAs (call to actions) if applicable (apply now, call now, send email) that are sticky like the header but located on the side or bottom of the screen.
Test your site before launching! Show it to 20-30 people and make sure they don't have problems finding anything.
Connecting to MLS with an IDX
IDX stands for Internet Data Exchange, and it allows you to input an API and hook your site up to the feed of your selected Real Estate Board. Doing this allows your site to show all the available listings across mls, making it easier for the client to find what they want – even if it's not your listing.
While some API software is easy to use and only needs a key code to start running, the same can not be said for Realtor web sites IDX software. These programs are enormous, hosting sometimes tens of thousands of posts per municipality. When it comes to getting an IDX installed on your site we highly suggest not doing it alone – but the value can not be understated. Which leads us to our final topic…
By utilizing IDX Software and a custom built layout you are able to make sure every lead on your web site is filtered directly to you no matter who's listing it is. In fact – you don't even have to show the listing agent to your viewers. This gives newer agents a HUGE boost in credibility and allows you to continue collecting leads on your site even when you have few to zero listings at the time.
It doesn't stop there, once your site becomes more popular and you have a larger regular user base – you can start collecting consumer information in order for clients to be able to see the listings. This allows you to get phone numbers, emails, and names of clients that are actively looking to purchase real estate.
Still have questions? Want to start building your site and creating an online funnel to help you passively drive sales and increase your recognition in the industry? Call us today or send an email to get put in touch with one of our agents.
While this will get you headed in the right direction, it is by no means the complete know how guide.  There is so much more to do in order to bring value to your clients and become a viable website for real estate information.  From organic reach via SEO (Search Engine Optimization), Social Media connectivity, news & blog posts, you should always aim to be building your content and evolving your business.
To learn more, shoot us a message via the live chat or give us a call directly!