Winnipeg Web Design: Stucco and Exteriors
Today we will be looking at the Winnipeg website stfexteriors.ca, a company that specializes in stucco and Acrylic Exteriors. The goal of this website was to build STF's online presence. We focused on creating a foundation to increase website traffic with Search Engine Optimization (SEO), Digital Marketing Strategies and Pay Per Click (PPC).
STF Exteriors provided us with only a business card, to inspire our UX design. In this case study, we will provide a high-level overview of the services provided.
UX Design, User Interface
On-Page Optimization, Foundation for SEO
Managed the transition from Traditional Marketing to Digital Marketing
Created an engaging custom logo animation for the home page to catch people's attention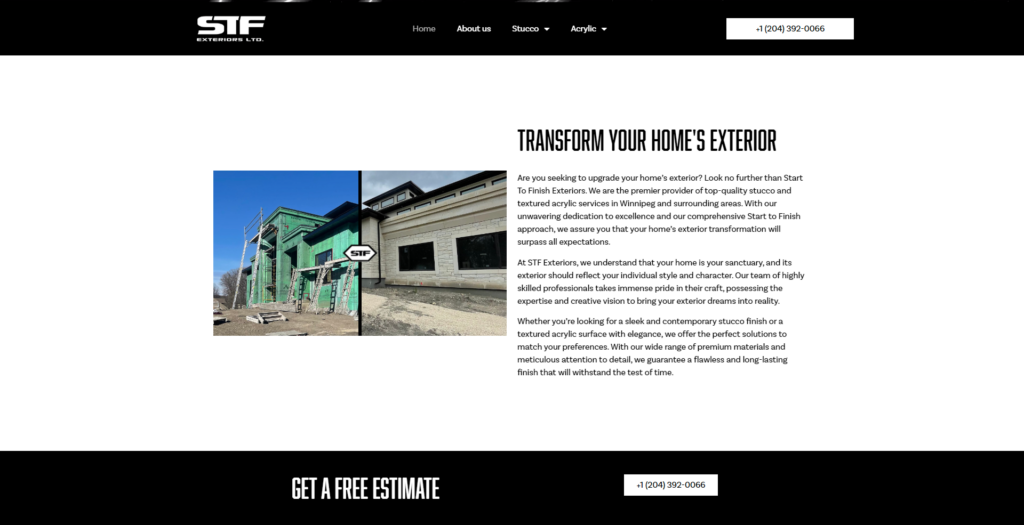 UX Design and Color Schemes
STF Exteriors has been in business for 10 years. They have built a successful business using nothing but traditional marketing tactics. We worked with STF to create a comprehensive marketing plan. Our plan included digital marketing services such as PPC ads and SEO to increase their market share in Winnipeg.
The only things provided to us for website design were a business card with their current logo on it. Using our design tools, our graphic design team created a mock-up in Adobe XD. We created mock-ups for all screen sizes.
By building a user interface, navigation elements were consistent allowing users to get anywhere on the site within two clicks.
To showcase their work, we made a custom slider with a side-by-side comparison of before and after photos. The client approved the design and passed it on to our web design team.
We used Elementor to build the website, a popular WordPress website builder. We can customize certain elements using CSS and JS with this tool that involves dragging and dropping.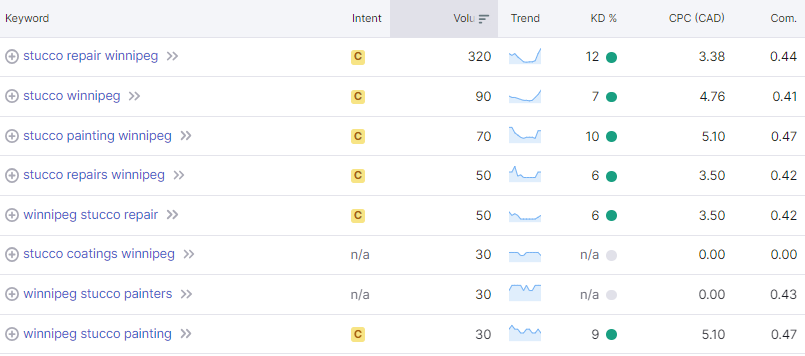 Laying The Foundations For SEO Optimization.
We write and develop all our websites with SEO in mind. We start by running analytics on the industry and the clients competitors. We locate high traffic keywords and review difficulty. We test the content to ensure it is engaging for their target audience.
This allows us to have a complete understanding of target keywords, semantics and readability for the website.
We include photos and video to ensure the content is easy to digest. All photos and video have relevant Alt attributes for Google's crawlers.
Making the Switch From Traditional To Digital Marketing
Start to finish started out 10 years ago. They have become an established trusted stucco and exteriors company by traditional Marketing strategies alone,
They understand that the next step would be to expand their presence into digital marketing campaigns. We helped them set up Google my business, Google Analytics and Google Search Console. This allows us to monitor traffic on the website and track its progress and visibility.
This gives us a clear picture of the progress your business's website is making in ranking for keywords.
Important Design Elements Keeping Site Visitors Staying Longer
Having a video on your home page when you navigate to your site increases engagement time which increases search engine optimization. We set out to make a custom logo animation to play on the initial banner.
9 out of ten people surveyed in 2022 wanted to see brands use more video. It is a trend that continues to grow. As such we made sure to include it as a focus point to create brand awareness around content marketing.
Online Marketing From a Successful Digital Marketing Agency
This Web Design case study showcases a successful journey of establishing an online presence for STFexteriors.ca, a stucco and acrylic exteriors company.
The team crafted a brand identity that spanned the entire website, ensuring an easy-to-navigate and engaging user experience.
We strategically integrated relevant keywords and semantic terms throughout the content, setting the stage for future SEO efforts.
We smoothly orchestrated the transition from traditional to digital marketing. Using Google My Business and Google Analytics will allow us to monitor for potential improvements
The addition of a captivating custom logo animation and strategic video implementation further boosted user engagement and brand awareness.
The transformation from offline success to a thriving online presence exemplifies the power of strategic website development and marketing to bolster a business's growth and reach in the digital era.